IK Multimedia's highly anticipated studio monitors are on their way!
The wait is over, iLoud MTM studio monitors are en route.  Prepare for your perception of studio monitors to be completely shattered as iLoud MTM plays music like you've never heard before.  After shocking the industry with the size and power of iLoud Micro Monitor, IK was challenged to push its concept even further – to design a new compact speaker to rival 5", 6" and even 8" monitors.  The result is iLoud MTM, and you have to hear them to believe it.
iLoud MTM offers an ultra-flat frequency response, but more importantly, a truly linear phase response – a premiere feature in this price segment available only on a handful of products costing considerably more. This gives iLoud MTM a natural, true-to-life sound made possible by IK's advanced DSP expertise.
iLoud MTM uses audiophile-grade, high resolution algorithms and top-of-the line A/D converters to carefully manage cross-overs, filtering, time alignment, equalization, dynamics control and auto-calibration. Prepare to hear instruments and dialogue as if they were happening live, discover more detail in your tracks than ever before, and avoid wasting hours trying to EQ away issues that were never there.

With a generous 100W RMS power and a class-defying 40 Hz to 24 kHz frequency response, iLoud MTM are extremely loud and clear. Incredible accuracy and transparency, deep and defined bass, precise stereo imaging at any distance, and automatic room calibration, all in a monitor that's small enough to fit on any desktop.
iLoud MTM monitors feature built-in, one-touch acoustic auto-calibration derived from IK's award winning ARC™ System, with IK's reference ARC™ microphone included, to easily adjust the frequency response to your positioning.
iLoud MTM uses a midrange-tweeter-midrange symmetrical design, with a pair of 3.5" high performance woofers and one 1" high definition tweeter, which provide ultra-precise, defined, point-source sound that can't be achieved by traditional 2-way systems at close distances. The result is a more natural, life-like sound that minimizes the ear fatigue caused by traditional 2- or 3-way designs where different frequencies arrive at the listener's ears at different times, so you can mix longer with less effort.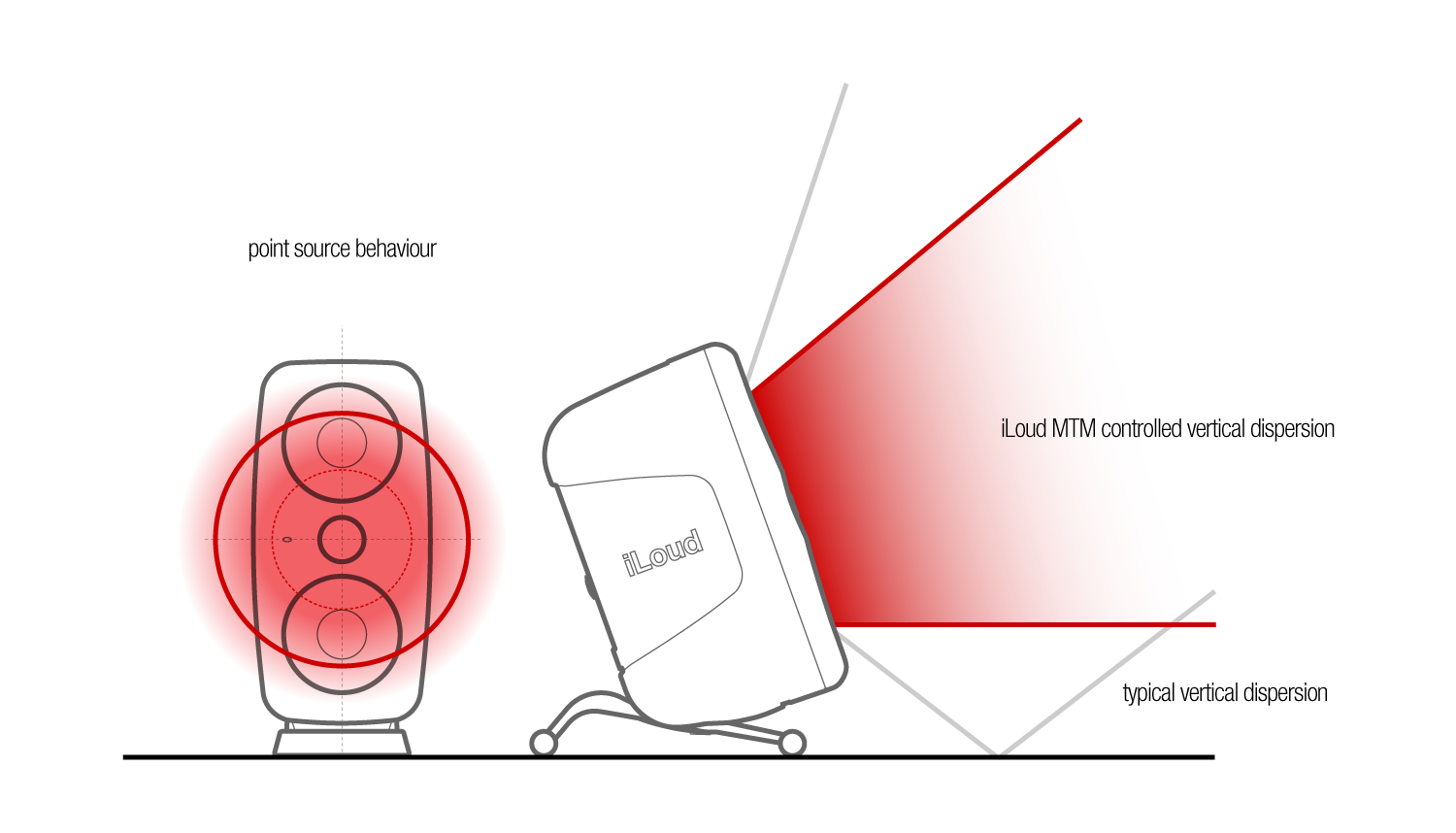 iLoud MTM offers:
Ultra-flat frequency response
Phase-coherent sound
Extended, controlled low end
Superior sound at short distances
ARC self-calibration adjusts to any room
DSP-controlled for superior performance
100W RMS total power per speaker
40 Hz to 24 kHz frequency response
0° – 20° tilting stand for ideal positioning
iLoud MTM is the perfect studio monitor for the producers of today. From highly treated studio spaces to a spare bedroom, iLoud MTM will sound great in any environment it faces. With its symmetrical design and phase-coherent response, iLoud MTM offers ultra-focused, accurate monitoring anywhere. Designed with you in mind, iLoud MTM brings a new type of quality to your home studio.