NEKTAR ANNOUNCES AURA BEAT COMPOSER
Nektar AURA is a powerful beat creation and performance instrument. Featuring 16 hyper-sensitive RGB illuminated pads, an on-board step sequencer, a flexible pad repeat engine and incredible plugin control, AURA brings an exciting drum-machine-style workflow to any DAW or external MIDI setup.
Paired with the included Nektarine 2.0 software, AURA becomes a plugin control powerhouse for VST, VST3 and AU plugins. Whether working a single multi-sound drum plugin or hosting a comprehensive kit using multiple plugins, setting AURA's pads up is fast and intuitive, with real-time auditioning. Nektarine can host up to 16 different instrument-plugins simultaneously, so that each of AURA's pads can play its own plugin. Any pad can be re-routed to a new plugin by creating a plugin slot and loading a patch or plugin directly from AURA's browser. Pad assignments are saved as part of a DAW project/song or a Nektarine Multi-Patch for instant recall.
AURA's 'Plugin' mode provides instant control of hosted instrument plugin parameters. When programming drum sounds, quick access to key parameters such as pitch, decay or level is essential. Nektarine makes short work of this by auto-selecting the relevant parameters for control with AURA's 8 rotary pots based on the last triggered pad. Nektar plugin maps ensure that even plugins with thousands of parameters can be controlled seamlessly.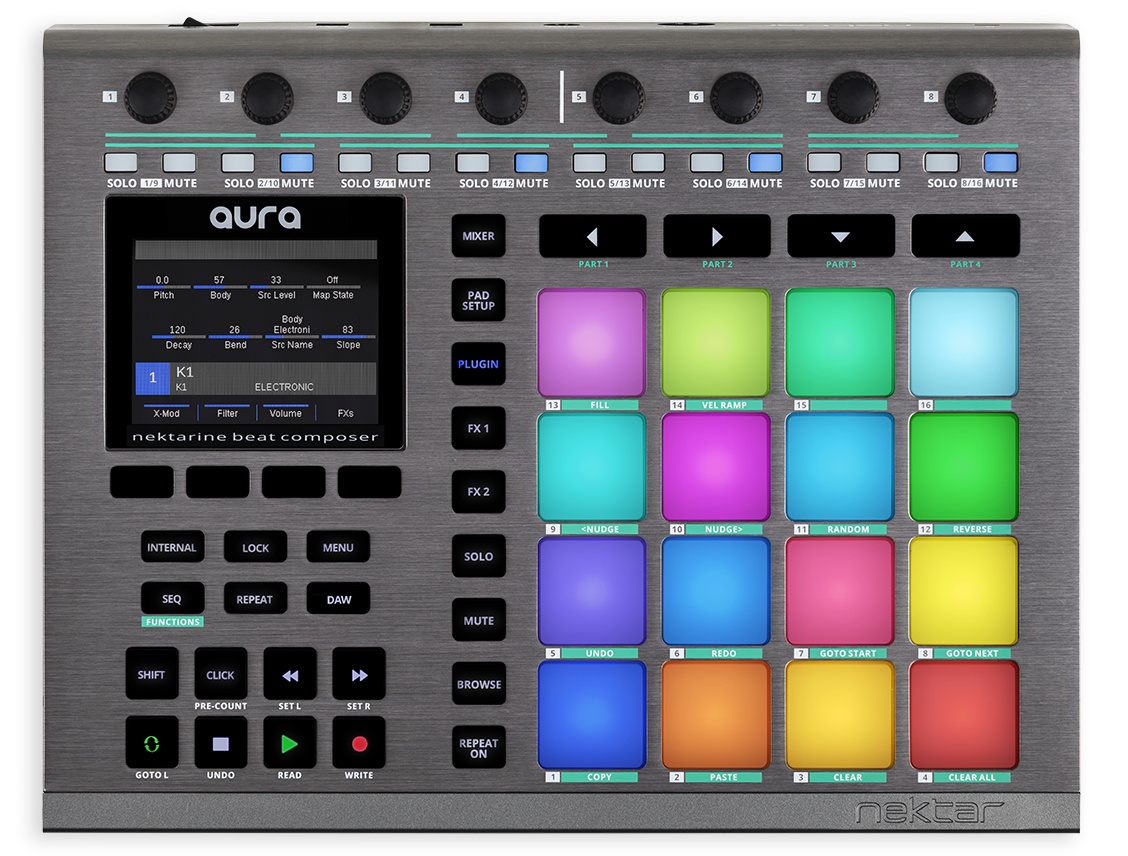 Nektarine 2.0 provides 4 FX insert slots per hosted instrument plugin for up to 64 insert effect plugins per Nektarine instance. Dedicated AURA 'FX' buttons enable selection and control of hosted effects plugins. Each Nektarine instance has another 4 global send effects slots. Their send levels are controlled for each instrument plugin from AURA's mixer page. Other mixer page controls are volume, pan and mute/solo for each plugin slot.
Nektarine's Browser is designed to manage thousands of patches with features like customizable tags and sorting tools, with full control from AURA. Browser settings are independent for every instrument and effect plugin slot. They are stored with a Nektarine Multi-Patch or even a DAW project/song, along with all other settings. Nektarine can be run in any DAW hosting AAX, AU, VST or VST3 plugins or as a standalone application in Windows and Apple OSX.
PAD REPEAT: AURA's on-board pad repeat engine is directly accessible, featuring a dedicated on/off button and settings menu. Using pad pressure to control velocity while changing repeat rates with the RGB LED buttons, makes it a great tool for creating dynamic rolls. The Repeat engine is highly customizable, parameters include Repeat Rate, Gate, Accent Interval, Accent Velocity Offset, Swing, Trigger Mode and Clock Source.
HARDWARE STEP SEQUENCER: On pressing AURA's 'SEQ' button, the 16 LED buttons below the pots become the much loved, classic 16-step programming interface. 16 patterns (one per pad) with 4 parts (comprising of up to 16 steps each) add up to a total of 64 steps. This provides a lot of flexibility for inspired beat creation. A set of patterns can be saved in one of AURA's 16 Collections. AURA's sequencer is all about interaction and performance: Parts may be triggered in any combination at any time. Each pattern, and even each part in a pattern, can have a different length – massively simplifying the creation of interesting poly-rhythms. Many of the editing features go all the way down to step level and include play rate, velocity, accent, gate and swing. Internal and external clock modes ensure perfect sync. The sequencer may also be used stand-alone for MIDI instruments connected to AURA's external MIDI Out.
DAW INTEGRATION: The dedicated 'DAW' button assigns AURA's surface to take control of many popular DAWs, offering Nektar DAW integration features such as extended transport control, track selection, project navigation and more. Nektar DAW Integration software is included for Ableton Live Suite, Bitwig, Cubase, Digital Performer, Garageband, Logic, Nuendo, Reaper, Reason, Studio One and Sonar/Cakewalk. 7 transport buttons are otherwise fully MIDI assignable, including MMC commands, and can be used to set up transport control for any software not supported by Nektar DAW integration.
MIDI PROGRAMMABILITY: AURA is designed for control of Nektarine, but it can also be used as a self-contained programmable USB MIDI pad controller in 'Internal' mode. It connects with hard- and software via USB or the MIDI output jack. 16 presets store pad and control assignments for use for the 16 pads, 8 pots, 7 switches and 2 foot switch connections.
NEKTAR AURA WILL BE SHIPPING IN MARCH 2020