Description
Impact GX Mini fits the power of Nektar's acclaimed Impact GX range of USB MIDI controller keyboards into your backpack: 25 mini keys with velocity, Joystick for modulation control and even Nektar DAW integration for most popular DAWs. Our unique Part 2 feature adds momentary transpose, layering and more. Impact GX Mini helps capture your ideas no matter where inspiration strikes!

PLAY
GX Mini features our newly developed velocity-sensitive keybed with 25 mini keys. Despite their miniscule dimensions, you can play them expressively with a defined and firm feel. You can also adjust the keyboard response to your playing style by choosing from three velocity curves.
BEND
Control pitch bend, modulation and other real-time MIDI messages with the Joystick. The left/right axis is assigned to pitch, the up/down axis is pre-assigned to modulation and foot controller but is also assignable to other MIDI CC-messages.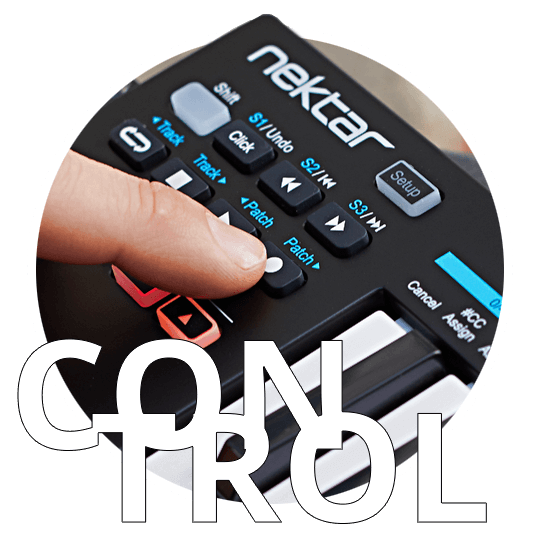 CONTROL – Control your DAW from GX Mini: Eight dedicated buttons put essential DAW functions right at your fingertips. Give your mouse a break and control transport, track navigation and other features with Nektar DAW Integration for most popular DAWs. The buttons are also MIDI assignable for use with any software that's not supported.
DOUBLE UP: PART 2
On a keyboard with just 25 keys, you are bound to hit the range limits. This is where Part Two comes in: While playing, simply press one of the dedicated "Part 2" buttons and momentarily shift the octave up or down, transpose, layer another octave on top – or switch to another MIDI channel altogether. The instant you let go of the buttons, Impact GX Mini reverts back to its original settings. What's more, any note that was played prior to pressing "Part 2" will keep playing at the original settings – so you could play and hold some really low bass notes, while playing a solo over the top. A great performance feature!
NEKTAR DAW INTEGRATION: GIVE YOUR MOUSE A BREAK!
Install Nektar DAW Integration and the 8 buttons right above the Joystick let you take control of essential tasks in your DAW right from Impact GX Mini. Most major DAWs are covered, including Ableton Live, Logic, Cubase, FL Studio and Studio One. Also included is a template setup for Pro Tools.
* Example integration controls – Ableton Live 
DAW integration features cover extended transport control including goto and set locators, track navigation, launching windows and patch navigation – without ever reaching for the mouse.
DAW INCLUDED: BITWIG 8-TRACK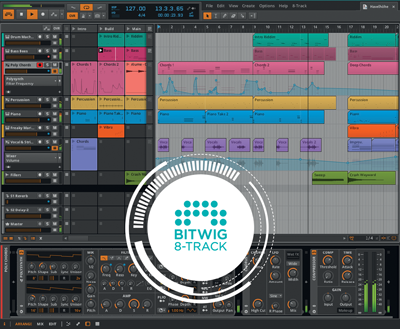 Start producing, performing, and designing sounds like a pro from day one with the included Bitwig 8-Track. It gives you access to over 50 software instruments and effects for use on up to 8 audio or MIDI project tracks – including support for any 3rd party VST plug-ins you might own. The software comes with the 'Bitwig Essentials Package', a highly versatile handpicked selection of loops, clips and samples to help you get started. The combination of GX Mini and Bitwig 8-Track provides you with a powerful sketchpad for your musical ideas, featuring the acclaimed workflow of Bitwig Studio. With Nektar DAW Integration you can control track selection and transport controls directly from Impact GX Mini, making this a fantastic combination. If you are just starting out, you will find it's the perfect way to take your first steps in the world of digital music creation. And if you're already familiar with using computer software, you'll be amazed at what this combination has to offer!