Description
Impact LX Mini makes the power of Nektar's Impact LX range of USB MIDI controller keyboards truly portable. Enhance your workflow with a host of powerful real-time and intuitive control features that inspire your creativity: No menu-diving, tactile control, two arpeggiators, drum pads, mini-keys that are great to play – and of course Nektar DAW integration. LX Mini has everything you need to create!

KEYS, PADS and CONTROLS:
Impact LX Mini features our newly developed keybed with 25 velocity-sensitive mini-keys. It can be played expressively and has a defined and firm feel. With a choice of 4 velocity curves and 3 fixed values, you can tailor the keyboard response to your playing style. Dedicated Octave buttons let you shift the octave swiftly for a wider reach. Additionally, the Part 2 buttons can be used for transpose.
The Joystick is 4 modulation controls in one: Left/right controls pitch bend, the upwards axis is preassigned to control modulation and the downwards axis is set to foot pedal control. The lever's push button sends foot pedal at max. level. Up, Down and the push button are freely assignable to any MIDI CC# number. Settings are retained over power-cycling.
Control any MIDI music software from LX Mini's 7 Transport buttons. All buttons are MIDI-assignable, with the shift button doubling the number of assignments to 14. With Nektar DAW integration,  you even get a third control level for a total of up to 21 functions – all pre-mapped for instant use.
8 knobs give you instant access to arpeggio, instrument or MIDI CC# parameters. The Instrument, Internal and Arp/Repeat mode buttons instantly assign the panel to the corresponding features. The Page button doubles the number of assignments.
How about controlling your virtual instruments like a hardware synth? LX Mini has a dedicated Instrument Mode button, that switches the knobs to control instrument parameters in most DAWs. And we've added screen printing to make it easy to remember assignments: Osc Tune, Level, Mod 1, Mod 2, Cutoff, Resonance, Envelope Amount and LFO. Using the Page button, you can assign two parameters to each knob for a total of 16. The large volume knob controls the channel volume. You assign parameters with Nektar Grab: Simply hold "Shift", move a software control, then move the hardware control – done! In most DAWs you can save your assignments into maps for later recall. If Nektar DAW integration isn't active, you can use Instrument Mode for MIDI learn in your DAW.
DOUBLE UP: PART 2
Part 2 is a unique performance feature for momentary setup changes: While playing, press one of the dedicated "Part 2" buttons to momentarily shift the octave up or down, transpose, layer another octave on top, switch to another MIDI channel altogether – or any combination of these features.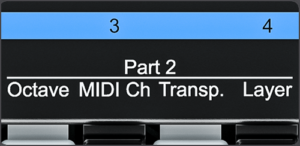 The instant you let go of the buttons, Impact LX Mini reverts back to its original settings. What's more, any note that was played prior to pressing "Part 2" will keep playing at the original settings – so you could play and hold some really low bass notes, while playing a solo over the top. You'd like to latch your setting? Simply press the second Part 2 button while still holding the first. Part 2 will help you play in new ways, not even possible on larger keyboards!
Impact LX Mini helps you creating expressive grooves and beats with its 8 velocity-sensitive pads. They offer a hyper-sensitive and even response, ideal for finger-drumming. Assignments are done in seconds and can be stored in 4 pad maps for a total of 32 note assignments.
ARPEGGIATOR & NOTE REPEAT
Two independent Arp/Repeat engines (one for keys and one for pads) with instant parameter access will inspire exciting synth and percussion lines. Once selected and activated, the Arp/Repeat engine parameters are available on the 8 knobs: Rate, Swing, Accent Level, Interval, Tempo, Arp Modes and Arp Octave can be changed in real-time. The screen printing makes it easy to find the parameter you are looking for.

The Page button switches between the Keys and Pads engine settings, and the buttons next to the pads allow to activate them independently. So it is really easy to have a hi hat or percussion figure going on the pads, while you have an arpeggio bass line figure assigned to the keys in double time – with immediate access to changing either. The tempo can be clocked internally or via MIDI.
LX Mini even has a footswitch socket for connecting a sustain pedal, a feature often missing on mini-keyboards. Connect any standard sustain pedal (like the NP-1 or NP-2) to the 3.5mm mini socket (an adapter from 3.5mm to 1/4″ is included). Polarity is detected automatically on boot-up, and it is freely MIDI CC#-assignable.
NEKTAR DAW INTEGRATION: GIVE YOUR MOUSE A BREAK!
Simply install the Nektar DAW Integration package for your DAW and start controlling essential tasks right from Impact LX Mini's transport section. Improve your workflow with extended transport control including goto/set locators on the fly, navigate tracks & projects, launch windows or select patches without ever reaching for the mouse.
DAW Integration example: the comprehensive Ableton Live support for Clips and Scenes – create, select and trigger Scenes, tweak Clips and record an Arrangement, all controlled from the hardware.
Nektar DAW integration currently supports Ableton Live, Bitwig, Cakewalk, Cubase, Digital Performer, FL Studio, GarageBand, Logic Pro X, Mixcraft, Nuendo, Reason, Reaper and Studio One. Also included is a template setup for Pro Tools.
DAW INCLUDED: BITWIG 8-TRACK
Start producing, performing, and designing sounds like a pro from day one with the included Bitwig 8-Track. It gives you access to over 50 software instruments and effects for use on up to 8 audio or MIDI project tracks – including support for any 3rd party VST plug-ins you might own. The software comes with the 'Bitwig Essentials Package', a highly versatile handpicked selection of loops, clips and samples to help you get started. The combination of LX Mini and Bitwig 8-Track provides you with a powerful sketchpad for your musical ideas, featuring the acclaimed workflow of Bitwig Studio.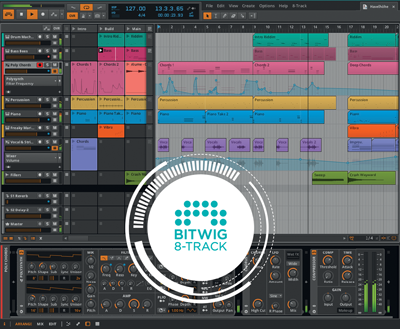 Nektar DAW Integration supports Bitwig 8-Track, so using Nektar Impact LX Mini and Bitwig 8-Track together is a fantastic combination: If you are just starting out, this is a great way to take your first steps in the world of digital music creation. And if you're already familiar with using DAW software you'll be amazed at what this combination has to offer!