Description
Precision Spatial Audio Capture
Spatial Mic lets you focus on recording immersive audio for VR, ATMOS, spatial music, concert recording, live broadcasts and much more. Want to use it in traditional stereo session? No Problem – the included software makes it easy to decode to stereo and aim virtual mics around the soundfield. No need for expensive multi-microphone & preamp setups – just plug-in and record with either Dante audio networking or USB/ADAT models.
Innovative Recording
360º Creativity
From studio to field, live concerts and the latest XR applications, your next adventure begins with Spatial Mic.

Future Proof Immersive Production
Record audio for evolving formats in VR/AR and leverage Dante audio networking to create 6 Degree Of Freedom experiences with multiple Spatial Mics.
Portability Redefined
Low noise & high SPL handling with single wire connectivity provides the freedom to leave bulky gear at home — even in the most demanding environments.
Critical Recording Flexibility
Spatial Mic transforms audio capture in the recording studio with unmatched control, versatility, quality and unique connectivity options to compliment your setup.
Broadcast & Live Concerts
Capture or live stream mono, stereo or multichannel audio feeds for sporting events, concerts, television, YouTube 360, Facebook 360 and more.
The results are captivating:
Expand Your Vision
Open new markets for your business and deliver content to Dolby Atmos, ambisonics or explore the sound field in mono, stereo X/Y, Blumlein or any format you would normally use for your production.
Test & Measurement
Use Spatial Mic to record & playback Impulse Responses in an acoustic space, view hotspots and sound reflections or explore new ways to interact with sound.

Premium rugged design with locking Neutrik etherCON
Dante audio network interface up to 32-bit / 192 kHz
AES67 mode up to 32-bit / 48 kHz
Configurable output for surround, ambiX & virtual mics
Power Over Ethernet (PoE)
Cirrus Logic ADC & THAT Corp analog front end
MicNet Control app for remote configuration
Features
Individual Calibration – Each microphone is individually calibrated prior to shipping for quick recording with a balanced array.
Live Headphone Monitoring – Stereo analog output with high quality AKM Conversion and live binaural monitoring.
Quality Construction – Designed to be light, compact and durable, Spatial Mic features high quality aluminum and nylon construction, combined with a bright LED display, anodized metal knob and metal headbasket.
Precise Conversion – The Spatial Mic Converter plugin uses carefully constructed DSP filtering with measurements from an anechoic chamber for precise audio conversion.
Quality Capsules – Eight 14mm condenser capsules are perfectly matched to multi-stage, digitally controlled analog front ends and 110 dB-SNR DACs.
16-Core Processor – A dedicated digital circuit board within Spatial Mic features a 16-core processor and high resolution SiLabs clocking scheme.
8 Capsule Array For Second Order Ambisonics – With SNR >72dB-A per capsule and Analog to Digital clipping at 131dB-SPL, you can record quiet nature sounds and loud concerts with ease.
Hi-Res Digital Connectivity: · USB Streaming up to 24-bit / 96 kHz · ADAT Light-Pipe up to 24-bit / 48 kHz
Spatial Mic Converter plugin
The Spatial Mic Converter plugin (AAX, Audio Unit & VST3) transforms the raw audio signals from Spatial Mic to Virtual Mics and first or second order ambisonics in AmbiX or Fuma formats. To accomplish this, Spatial Mic Converter uses an internal 64-channel filter matrix and measurements from an anechoic chamber.
Spatial Mic Converter offers the capability to change the microphone's aim at the point in space where the audio was recorded. This is useful when aligning audio position with 360 video, or aiming the mic at a specific sound that should be in front of the listener.
The Virtual Mic can output several different types of higher order patterns that go far beyond classic Omni → Cardioid → Figure-8.
For more information visit: https://voyage.audio/spatial-mic-converter-plugin-virtual-mic-output-overview/
Spatial Mic Control app
The Spatial Mic Control app provides remote manipulation of various hardware parameters on Spatial Mic. Spatial Mic Control communicates with the microphone through the same USB cable used to supply power and stream audio data. Spatial Mic Control replicates the hardware controls found on Spatial Mic itself and adds additional functionality.
MicNet Control App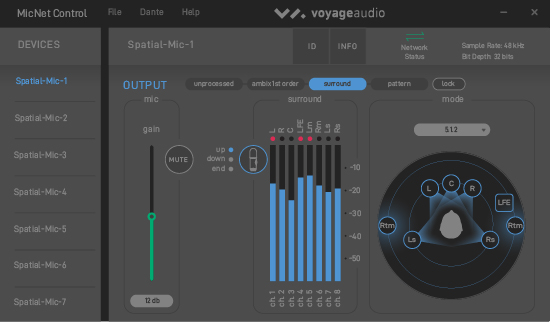 MicNet Control provides remote control of the analog stage and internal DSP processing of Spatial Mic Dante. Computers on the Dante network running MicNet Control can change the parameters of any microphone on the network.  MicNet Control can change the audio output format which is accomplished in the microphone itself via DSP. Output options include unprocessed (for Spatial Mic Converter Plugin), 1st order ambisonics, surround feeds and virtual mic mono or stereo pairs. These additional options beyond unprocessed audio open up many applications for live performance and broadcast when low latency audio feeds are needed.