Description
A tiny mic with big sound
YouTubers, mobile journalists, and other content creators know the importance of great-sounding audio to stand out from the crowd. However, if you capture or stream using an iPad, iPhone or Android device, it's not always easy – especially on the go. We've all watched videos where the audio was compromised by background noise, wind or just annoying echos.
Luckily, you no longer need to struggle to record crisp, clear audio on-the-go or on a budget. The iRig Mic Cast 2 is an affordable, pocket-sized microphone that easily attaches to your device and lets you sound your best anywhere, any time.
Features
Works with iPhone, iPad, and Android devices
Selectable front / rear / omni-directional recording
Quiet recordings with no background noise
Snap-on magnetic mounting, even with a case
Headphone out to monitor signal (with compatible apps)
Works with virtually any audio or video app
Capture noise-free audio
iRig Mic Cast 2 is a tiny mic with big sound. The sequel to IK Multimedia's innovative iRig Mic Cast, it lets you record crystal clear speech anywhere using your iPhone, iPad or Android device. A new dual-capsule design lets you select front or rear pick-up patterns to reject off-axis noise whether you're recording yourself or someone else. You can also select both at once, for an omnidirectional pattern that's ideal for recording interviews and Q&As.
Shown with iKlip Grip Pro and Lightning adaptor (not included) 
Ready when you are
Weighing in at just a few ounces, this featherweight mic mounts securely onto your iPad or smartphone. Its innovative magnetic design lets you easily snap it right into place on your device in seconds (even with a case), for set-and-forget convenience. An included breakout cable also lets you use iRig Mic Cast 2 in both portrait or landscape orientation on phones and tablets.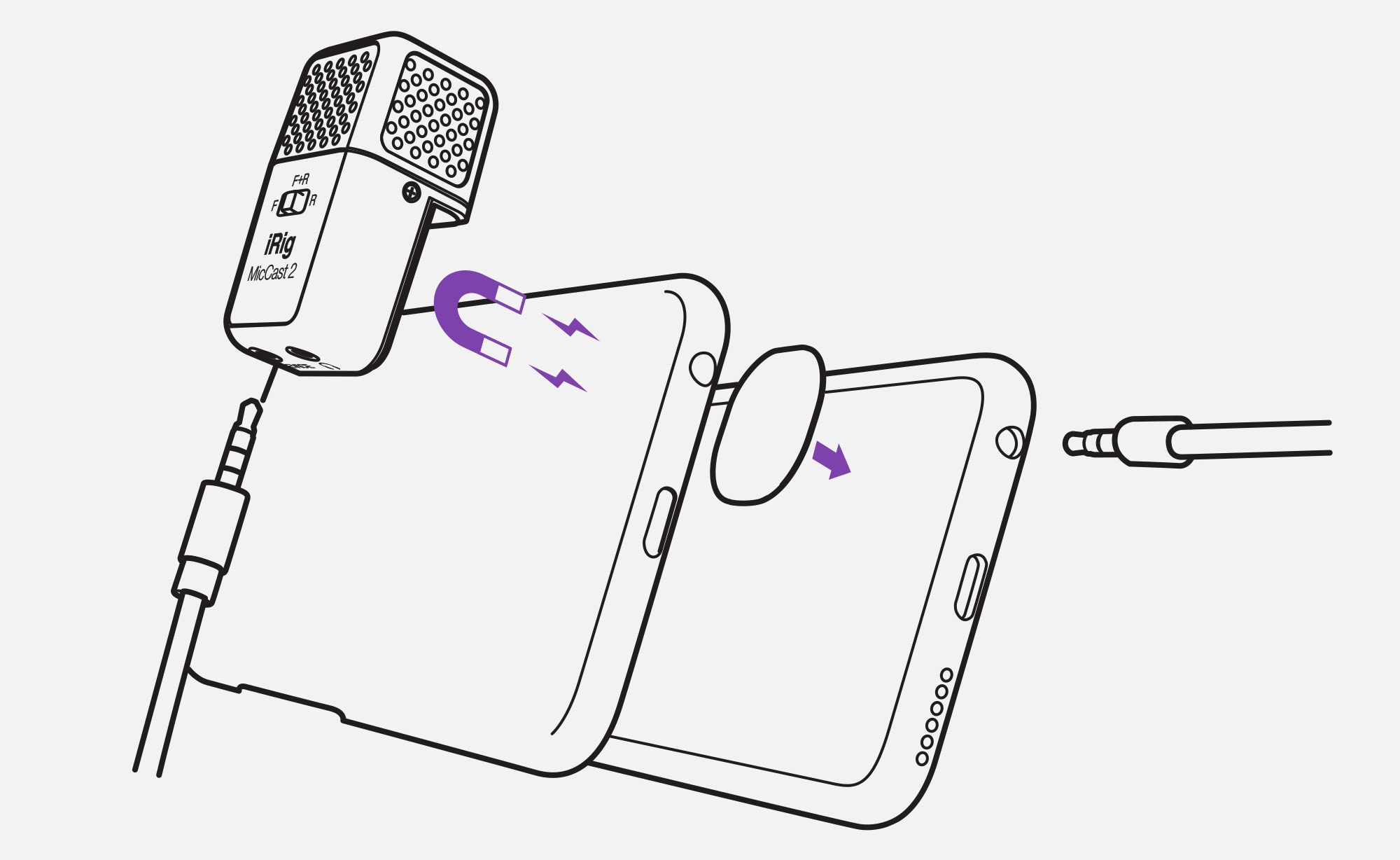 Works with all your favourite apps
iRig Mic Cast 2 works with any app that records audio, so you can shoot YouTube videos, Instagram live-streams, or even use it for Skype and FaceTime calls. The built-in headphone out can be used to listen to the signal in real-time to be sure you're capturing great audio. It's ideal for newer smartphone models without a headphone jack.*
* Requires use of Apple's Lightning to 3.5 mm Headphone Jack Adapter (TRRS).
To get you started right out of the box, iRig Mic Cast 2 comes with iRig Recorder 3 LE (iPhone/iPad/Android) – an easy-to-use, high quality audio and video. Record, trim, edit and share, right from your device.
Travels anywhere
No matter where your travels take you, iRig Mic Cast 2 is ready to come along for the ride. Its backpack portability makes it an ideal travel companion, and an included windscreen ensures high recording quality when outdoors. Best of all, there's no batteries required!
iRig Mic Cast 2 is the affordable, pocket-sized solution for all your audio needs. Get heard, get shared and get followed with audio that stands out from the crowd.