Description
WIDIFLEX – NO MORE MIDI CABLES.
Add wireless Bluetooth BLE MIDI to standard MIDI devices
WIDIFLEX is a set of two MIDI DIN plugs, with all Bluetooth functionality built into the larger plug that connects to your gear's MIDI Out socket. You won't even need to worry about external power: WIDIFLEX is powered from your gear's MIDI Out socket!
Plug in and go: All you need to do is to plug WIDIFLEX into your MIDI gear's MIDI DIN sockets. The large plug goes into the devices's MIDI Out, the small detachable one into the MIDI In.
For a direct MIDI-to-MIDI connection, simply plug a second WIDIFLEX set into the gear you want to connect with. Automatic Pairing will auto-connect both devices, and you are good to go with full bi-directional transmission of all MIDI data, including MIDI Clock and MPE.
For a Computer-to-MIDI connection with current Mac OS computers or iOS, you can pair WIDIFLEX with their built-in Bluetooth right away. On Windows, you might need to add a WIDIFLEX USB: Once plugged in, it auto-connnects to your WIDIFLEX, and the new MIDI port becomes visible in your DAW.
Bluetooth (BLE) to MIDI connections are also supported. So with WIDIFLEX, you can pair bluetooth MIDI controllers with your stage piano or synthesizer and play them from the front of the stage!
Connect up to 5 WIDI devices: But WIDIFLEX can do a lot more than just provide one wireless MIDI connection via Bluetooth: Create multiple fixed pairs and also WIDI groups of up to 5 devices, as shown below.
CREATE WIDI GROUPS
Set up WIDI groups of up to 5 Bluetooth MIDI devices with one central WIDI device and up to 4 peripherals over 16 MIDI channels. You can easily do this via the free WIDI app for iOS and Android, or with the group auto-learn mode. The WIDI app also lets you store setups for instant recall.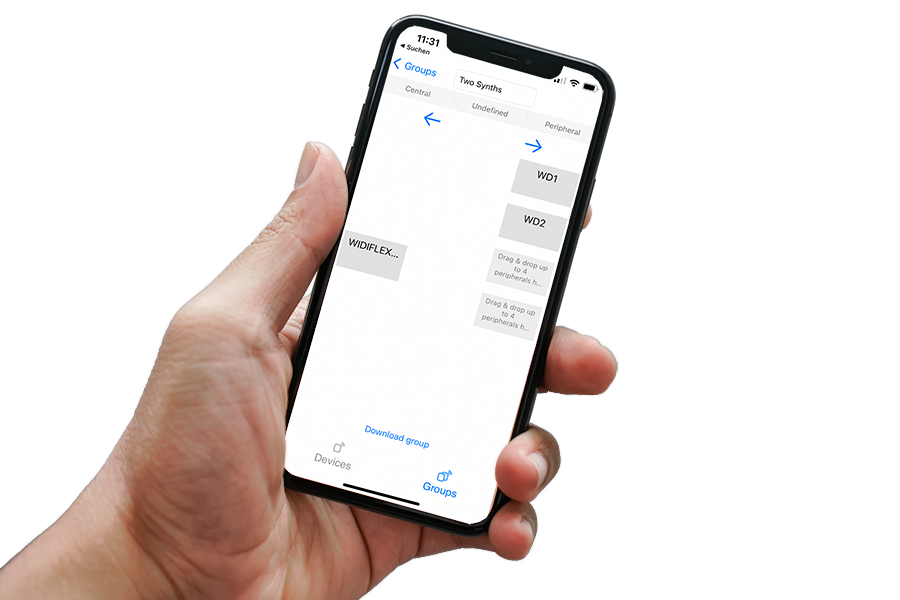 KEY FEATURES
• Bluetooth 5: Secure connection for live & stage with 2x the speed and 4x the range of earlier Bluetooth versions.
• SCA Technology: Unique Smart Connectivity Algorithms for optimized WIDI performance
• Ultra-low 3 ms latency: ground breaking latency reduction
• Automatic Pairing: Instant setup
• WIDI Groups: Up to 5 devices
• MIDI Clock and SysEx: Transmission of all MIDI messages over Bluetooth including MPE
• Free iOS/Android WIDI App: Use the CME "WIDI App" to manage your settings and groups easily
• No external power: Supports 5V and 3.3V via MIDI Out Din
SPECIFICATIONS
Technology: Bluetooth 5, MIDI over Bluetooth LE
100% MIDI compatible: Transmits all MIDI data including MIDI clock, SysEx and MPE
Latency: As low as 3ms (tested with 2 paired WIDIFLEX devices).
Range: 20 metres / 65 feet without obstruction.
Automatic pairing, also with standard BLE MIDI controllers
Compatibility: All WIDI devices (including CME and Artesia Pro), Bluetooth MIDI controllers, Mac, iPhone, iPad with Bluetooth 4.0 or later.
Compatible OS: iOS 8 or later, Mac OS Yosemite or later, any MIDI OS* (Windows/Linux) if paired with optional WIDIFLEX USB.
Connectors: MIDI in/out (5-pin DIN). WIDIFLEX MIDI out connector must always be connected, MIDI in is optional for bi-directional transmission.
Firmware update: Wireless via CME WIDI APP (iOS/Android)
Power Supply: 5V/3.3V via host device's MIDI out.
Weight & Dimensions: Main device: 12 g, 21 x 21x 49 mm, Sub device: 11 g, 18 x 18 x 24 mm
IN THE BOX
WIDIFLEX Bluetooth LE MIDI DIN device (output)
MIDI DIN -> 1/8″ TRS jack adapter cable (input)
Quick Start User Guide
= WIDIFLEX can connect directly to Macs with Bluetooth 4 or higher. Windows and Linux do not have Bluetooth MIDI capable drivers, but a second WIDIFLEX can be connected to any USB MIDI DIN output. Alternatively, consider WIDIFLEX USB to provide a dedicated Bluetooth MIDI port on your computer.