PC World: "iRig Mix: It's innovative, a mobile DJ's dream
iRig Mix featured as one of "12 Amazing App-Powered Gadgets"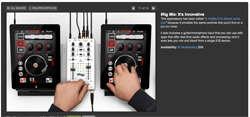 iRig Mix was featured as one of "12 Amazing App-Powered Gadgets" by PC World Magazine online. Here are quotes from the gadget slide-show featuring iRig Mix:
"iRig Mix: It's Innovative!"
"This appcessory has been called 'a mobile DJ's dream come true' because it provides the same controls that you'd find on a pro DJ mixer." 
"It also includes a guitar/microphone input that you can use with apps that offer real-time audio effects and processing–and it even lets you mix and blend from a single iOS device."
Check out the iRig Mix feature on PC World.
Learn more about DJ'ing and mixing songs from your iTunes library with iRig Mix & DJ Rig.
Read the IK Multimedia profile at Sound-Music
Call for advice on where to buy
Dial +61 (0)3 9555 8081
Email us to find the closest recommended dealer matching your interest